FEATURES
Powered by two specially designed 300+ HP IO-550's with dual 3-bladed props
Typical Shooting Altitudes: Up to 12,000 feet
Typical Shooting Speeds: Up to 125 mph
4.5 Hour Endurance
Dual VHF and Single UHF communications capabilities
IFR Capable
STOL (Short Takeoff and Landing) Kit Equipped
Minimum Flight crew: 1 Pilot
Camera Crew: Camera Operator & Still Photographer
Additional seating for Production personnel is dependent on project requirements.
CAMERA SYSTEMS
A Gyron HD is electrically deployed to provide a clear 360-degree view below the aircraft.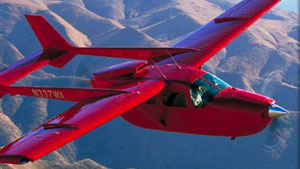 Wolfe Air has created the world's most unique aerial platform. We modified a Cessna Skymaster 337 to enable it to perform like no other aircraft providing air-to-air, or air-to-ground, platform services. The Eagles 360 engines were replaced with Continental 550's. Three bladed props and new elaborate fuel and electrical systems were also added. We turned a $100,000 airplane into a $500,000 workhorse and it was, given our unique application and requirements, worth every cent and effort. The results are amazing.
In addition to its incredible enhanced performance, the Eagle is much safer and considerably more reliable than any other fixed-wing gimbal platform. We are now able to fly smooth high-speed formation with light jets, yet maintain the very slow flight characteristics provided by the original Cessna STOL conversion. This aircraft has also been used to provide live coverage for everything from NASCAR on Fox Sports to stadium football games for ESPN, etc.
VIDEOS