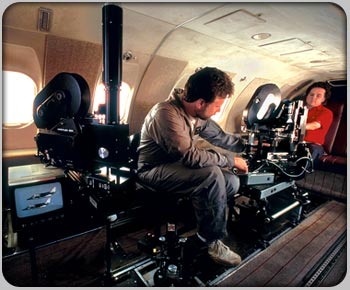 Wolfe Air's Learjet is exclusively outfitted with Nettmann Systems' incredible Vectorvision systems. With lens ports on the top and the bottom of our fuselage, controlled by camera operator inside the airplane, Vectorvision delivers shooting latitude and creative control that is unmatched. The ability to zoom, roll and shoot in "magic light" with substantially faster optics is what puts Vectorvision in a class by itself. Whether you are shooting Hi-DEF, Film, Video, IMAX, Stills, or anything in between, Wolfe Air has the ultimate solutions. By combining our state-of-the-art technology with the finest pilots, cameramen and technical support personnel, we continue to capture award-winning images for our clients.

Bottom Port
This system has the most capabilities of any airborne jet based system. With over 360 degrees of horizon roll and pan, 35-105mm zoom and increased tilt range, Vectorvision delivers shooting latitude and creative control that is unmatched. It has substantially faster optics than its predecessor, gyrostabilized and remote lens control and the ability to shoot up to 5K high definition. Vectorvision truly is in a class by itself. Compatible cameras include any PL mount camera package up to 5K sensor.
Top Port
With 360 degrees of horizon pan and 80 degrees tilt, our Top Port captures imagery from straight up through down to our wing. Compatible cameras include any PL mount camera package up to 4K sensor.
VIDEOS
FEATURES
Film, HI-DEF, & Video
Top and Bottom Ports
360° Steerable Roll Axis
Complete Zoom Capabilities
Separate Port for Hasseblad Stills and 10mgpx Digital
P.O.V. Nose Mount System
APPLICATIONS
Aerial Cinematography
Flight Test
F/X Plates
Air to Air; Air to Ground Filming
Vectorvision vs. Astrovision
Both of these aerial camera systems were designed and built by genius, Academy Award winning remote system designer / engineer Bob Nettmann. Over thirty years ago Bob conceived and built Astrovision as a means of making air-to-air filming safer after losing a friend in an aerial filming accident.
After fifteen years, and literally hundreds of air-to-air shoots, Bob continued to scrutinize and analyze the shortcomings and creative latitude restrictions of his Astrovision system. Considering the extensive modifications that would be required to improve the system, Bob decided to completely scrap the original Astrovision design and started over from ground zero.
The result was the birth of VECTORVISION. Significant upgrades include:
FASTER OPTICS to permit consistent high quality results in "magic light" conditions
INCREASED LOOK-UP capability added to the optical relay
ZOOM CAPABILITY allowing cameraman to safely combine pilot maneuvers with framing
STEERABLE HORIZON ROLL CONTROL within the optics
With the added creative latitude provided by the incredible new Vectorvision system, Director, Cameraman & Pilot are able to choreograph virtually any imaginable aerial sequence in any lighting condition. The resulting improvements are stunning.